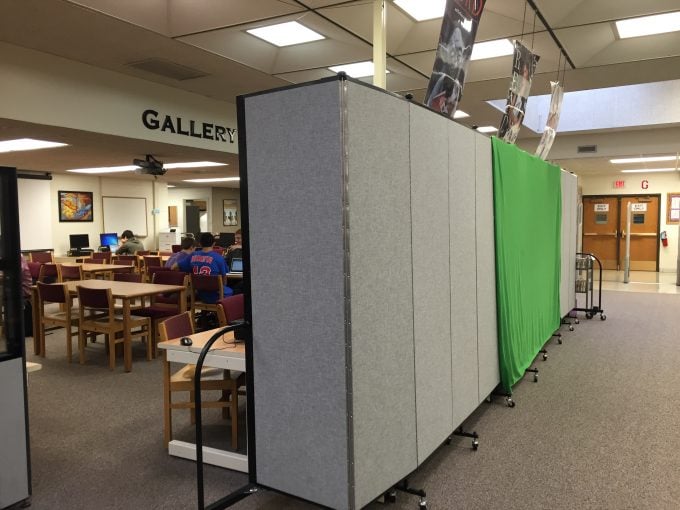 What are good solutions for dividing my space? – Screenflex Portable Room Dividers make it easy to divide any room
The Location: Downers Grove North High School-Downers Grove, IL
The Problem: Create a "Gallery" area in a library
The Solution: 6-feet, 11-panel room divider in Summer Blue-EB
The staff of the Downers Grove North High School (DGNHS) Library contact a sales consultant to find out what are good solutions for dividing my space.  After listening to the customer needs, a longer unit was suggested to section off the space needed in the library. A 6-feet unit still allowed to the light and HVAC system to access the sectioned off space.  Because of the sound baffles and two layers of insulation used to create each panel, the library was able to enjoy the added sound-absorbing qualities the portable walls provide.
"I've been meaning to let you know how much we're enjoying our Screenflex divider at the Downers Grove North High School Library!
It's been perfect to keep out the visual and sound distractions in our open library space so we can instruct in our "Gallery" area.
As an added bonus, we've also been able to use it to hang our "green screen" for video projects.  Initially, we had a green screen setup that had to be mounted on a wall, but the lighting in that area of our library was not ideal and it was a lot of work to set it up and take it down.  The Screenflex divider allows us to temporarily screen in our "Gallery" area for the classroom while groups film their video footage with the green screen on the other side." ~ DGNHS Faculty and Staff