Receiving Your Screenflex Room Divider Video Transcript Summary
All Screenflex dividers come fully assembled.  Just remove the carton and your room divider is ready to use. Receiving your Screenflex room divider is easier than you think.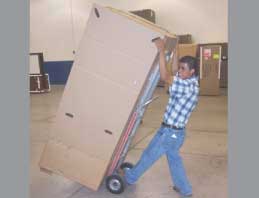 Our room dividers are packed securely in tall cartons about the size of a refrigerator.  It is recommended that two people receive the delivery.  Each Screenflex divider weighs between 85-240 pounds.
The truck driver will call one or two days prior to confirm your delivery.  The driver will take the box to the tailgate of the truck and hand the box to you.  You will just need to lower and remove the carton.
Once the carton is lowered and ready to be removed, pull down all of the flaps from the bottom of the box.  After all flaps are pulled down split the carton on either side.  This will make it easier to remove the top of the carton.
After you have removed the top of the carton kick the tubular pieces of cardboard out from under the casters.  When all of the casters are free from its base your room divider is ready to be wheeled into the building.
Each room divider is about 25″ wide and should easily fit though any doorway.  Now you are ready to enjoy your new Screenflex room divider.