There are two ways you can get informative and entertaining emails about portable walls: subscribe to the Room Divider Newsletter or to the Room Divider Blog. We've received nothing but great feedback on our email activities. And as always, we will never sell your email address to anyone, so, don't hesitate to subscribe.
---
Room Divider Newsletter Subscription
We periodically send out emails to our most recent customers who have contacted us. What's in our emails? Sometimes, the emails contain the latest Screenflex current offers. Other times, we send the room divider newsletter which has informative space dividing news, photos, interesting blog posts and user profiles.
---
Room Divider Blog Subscription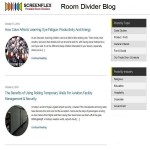 We also regularly write informative Blog articles with the latest information about room dividers, Screenflex events, dividing space, user case studies, and the latest trends and topics in education, religion, and other information related to the industries of our customers.
---
For further details about the use of your information, you can read our Privacy Policy and Terms.